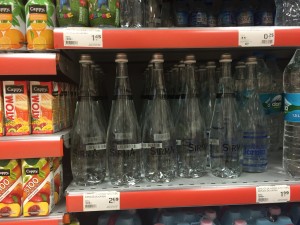 With all the talk surrounding advances in shopper marketing, many marketers might be tempted to forget that the biggest single influencer of shopper behavior is product availability. Put it this way, if a shopper can't find the product, she won't buy the product and chances are, she'll buy a substitute instead.
With the vast majority of purchases being made on the home shelf in stores and off the regular page online, ensuring your product is present and visible is the first responsibility of the shopper marketing team. This might sound like a glib statement but ensuring product availability is surprisingly tough to get right and astoundingly easy to get wrong.
Here's a few simple rules every shopper marketer should bear in mind.
Make sure it's 'there'
Ok, I know this is really basic but a shopper can't buy your product if it's not for sale where they are shopping. This doesn't mean that your product has to be everywhere – I'm not suggesting that anything less than 100% distribution is a failure. What I am urging, though, is that brands understand who their target shopper is, what he wants to buy and where he wants to buy it.
This means that range and distribution targets should be set with the target shopper in mind and not just based on the efficiency of any given route-to-market. In today's grocery markets the tectonic plates of retail are shifting; big-box, one-stop shops are giving ground to online outlets, discounters and convenience stores. Waiting for these channels to become significant for your brand may make your brand insignificant as the shoppers who are flocking to these environments choose your competitors and not you.
Shopper marketers are stewards of a brand's future and their challenge is to always ensure that there's a product available to the brand's shoppers, wherever they choose to shop.
Just because it's 'there' doesn't mean it's 'there'
Be super careful of relying on inventory reporting for peace of mind. The fact that a product might be showing up as being in distribution doesn't necessarily mean that it's available for purchase. As a sales guy years ago a lot of the time I wasted in stores was spent hunting through stock rooms trying to find that box of Twix that had been delivered but hadn't made it to the shelf.
In online stores, shoppers expect to be able to receive everything they want at the same time, so if your product isn't in-stock, even when it's on the page, there'll be a bunch of folks who choose the other brand that is there.
As a shopper marketer, the only time you can relax is when you know your product is available to buy, in the right place and in sufficient quantity to meet your shoppers' demand. (I know that means, like, never!)
Just because it's 'there' doesn't mean that it's fit for purchase
Have a look at the pic I posted above, now have a look again – which bottle would you buy? The one full to the brim or the one that only looks part full? I'm guessing you and I would come to the same conclusion – the one that's full!
As shoppers we always want the best, so apparent product quality is a must. Damaged and dirty goods turn us off and whilst a committed shopper might look for a perfect pack, others may just as quickly switch to something else. The same holds true online, perhaps more so, if the product imagery doesn't look outstanding, some shoppers will go elsewhere.
As a shopper marketer, doing your level best to nail the quality of your presentation in store is a great way to win shoppers for your brand.
Just because its 'there' doesn't mean I can see it
Shops are busy places and shoppers are busy people, in the average superstore, shoppers will browse a category for 30 seconds – that's 30 seconds to find your product amongst the other 200 or so products on sale. In surveys we've done, shoppers often cite not being able to find a product on shelf as the key reason why they switch brands. Scarily, in many of the cases, the product was on shelf, just not in a place where it was easy to find.
On a website, particularly one that sells grocery products, getting visibility is going to get harder: Here algorithms determine what shoppers see. As these algorithms get smarter, so the pressure on shopper marketers will increase. But for shopper marketers, obsessing about how visibility can be constantly improved is far more likely to pay greater dividends than the next big thematic activity.
So what does all this mean?
An awful lot of 'shopper marketing' initiatives seem to focus on the short-term delivery of great communications gimmicks or super, shiny, new promotions. Indeed one team I work with currently spends over 80% of their time working on promotions alone.  Interestingly though, as we've worked through a re-organization process, the team has learnt the true RoI their efforts and it's not pretty.
Uncovering the true value of product availability by contrast has had a profound effect on way this team thinks and on the way they will organize themselves. Their new plan is to focus over half of their resources on continuous improvement of product availability. I think this is the mark of a true shopper marketing team; one that knows that marketing to shoppers requires the use of the full range arrows in their quiver – availability, communication and offer.
In our book, "The Shopper Marketing Revolution", Mike Anthony and I explore what it takes to make a great shopper marketing team and we talk extensively about getting product availability right. Incidentally, the book is available to shoppers globally, just click here!